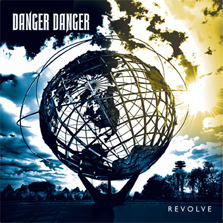 Here is the cover for the new Danger Danger CD titled "Revolve."
The CD will be released on LowDice records here in the U.S., on Frontiers records in Europe, and on King Records in Japan.
It will be available here, on dangerdanger.com on Sept 18th, so mark your calendars!

Danger Danger founding member and bassist Bruno Ravel had this to say about the new record:
"This is Danger Danger's first studio recording in 10 years, and I believe, it's finest. There are no filler tracks on this CD. That's why it took so long to finish. Sure, we could have thrown together 10 songs and released this album a lot sooner like a lot of other bands might have opted for, but not us. We wanted every song to stand on it's own and I believe they do. Ted has never sounded better, on ANY recording and coming from me, that's saying a lot. Also, Rob Marcello, in my opnion, contributed the best guitar work of his career and I'm really proud of him. He really paid attention to detail, and played his ass off! In addition to that, there are some very special contributions from our good friends Tony Harnell (TNT, Starbreaker, Westworld,) Mitch Malloy, Jaret Reddick (Bowling For Soup,) and Frank Vestry that add some serious flavor to the tracks. I'm really looking forward to you all hearing it and I hope you all enjoy it because it took a lot of hard work, time and sacrifice to make this record! See ya on the road!"
The band plans to do some extensive touring behind this release, and to celebrate their 20th anniversary in the business! Check back in the coming months for updates on that...
"Revolve" tracklisting:
That's What I'm Talkin' About
Ghost Of Love
Killin' Love
Hearts On The Highway
Fugitive
Keep On Keepin' On
Rocket To Your Heart
F.U.$.
Beautiful Regret
Never Give Up
Dirty Mind
Bonus Track (Japan Only) Beautiful Regret (Acoustic Mix)
Below are some preview sound clips from "Revolve."
That's What I'm Talking About
Ghost of Love
Hearts On The Highway